The flags shown below are displayed in our dojang. They are
hung in a place of Prominence and Honor so that they are obvious to everyone who enters.
Student and master alike bow to the flags whenever they are entering or leaving the dojang.
This is done as an act of respect for what the flags represent.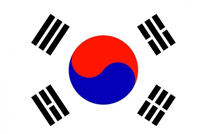 The Korean Flag.
The circular symbol in the center of the flag is the "Um and Yang". The blue represents the Um
(positive, good) and the red represents the Yang (negative, evil).
This is the symbol of the universe in totality. It is split into two to illustrate the
opposites which make up the universe as it truly is. Notice that one side of the Um
merges into the Yang and on side of the Yang merges into the Um; showing there can be
some good in evil and some evil in good. There is some daylight in the
night at dusk and some night in the day at dawn.
Examples of the UM and YANG: Opposites
Black and White, Day and Night, Hot and Cold, Tall and Small.
The bar symbols at each corner of the flag represent the elements of the universe.
The 3 solid bars at the upper left hand corner represent Heaven and directly
opposite in the lower right hand corner with 3 broken bars stands for Earth.
The symbol in the lower left hand corner with 1 broken bar in the middle stands for
Fire and the symbol opposite that in the upper right hand corner with 2 broken bars outside
represents Water. This flag is displayed to remind us of the heritage of Tae Kwon Do.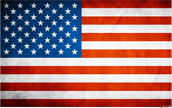 The
UNITED STATES OF AMERICA
flag. The red and white
stripes stand
for the 13 original colonies
that were established by
the British and were
involved in the American
Revolution in 1776. The
50 stars are significant of
each state that now make up
the UNITED STATES.
The flag is displayed to show
loyalty to and
respect for the country in which
we live and train

The
American Dae Woong Chung
Tae Kwon Do Association flag
The Dragon in Korean mythology
is portrayed
as being strong and fierce with a coat of
armor on the outside: but righteous,
compassionate
and just on the inside.
The dragon encircles the
Um and Yang thereby
protecting the universe.


CHANG MOO KWAN SYMBOL
DRAGON - HORSE
Symbolize martial arts
SHIELD
Symbolize self - defense
PAPER SCROLL
Symbolize mental
enlightenment
in addition to physical training
FIST
Symbolize Taekwondo Techniques